COVID-19: How we're working to protect you. Learn more about what we're doing and store closure updates.
ampm

#GETTHATHORCHATA SWEEPSTAKES



OFFICIAL RULES
Five winners of the ampm #getthathorchata sweepstakes
Lukas Perea - CA
Angelina Lopez - CA
Gary Evans - CA
Wendy Munoz - CA
Kathie Shanahan - CA
NO PURCHASE OR PAYMENT OF ANY KIND NECESSARY TO ENTER OR WIN. A PURCHASE WILL NOT INCREASE YOUR CHANCE OF WINNING. THIS SWEEPSTAKES IS INTENDED FOR PLAY IN THE UNITED STATES ONLY AND WILL BE GOVERNED BY U.S. LAW. DO NOT ENTER IF YOU ARE NOT ELIGIBLE AND LOCATED IN ONE OF THE ELIGIBLE STATES (AS DEFINED BELOW) AT THE TIME OF ENTRY. VOID OUTSIDE OF THE ELIGIBLE STATES AND WHERE PROHIBITED.
1. ELIGIBILITY:
The ampm #GetThatHorchata Sweepstakes ("Sweepstakes") is only open to legal residents of California, Arizona, Nevada, Oregon, and Washington ("Eligible State(s)") who are at least 18 years of age or older, all at the time of entry. The following persons are not eligible to participate: Employees, contractors, directors and officers of BP Products North America, Inc./BPPNA ("Sponsor") and its franchisees, Marathon Petroleum Corporation and its franchisees, First Star Communications, Ltd. ("First Star"), Mindshare Technologies, Inc., Rubin Postaer & Associates ("RPA"), and their parent, subsidiaries, and affiliate companies, distributors, suppliers as well as the immediate family (spouse, parent, child, sibling, grandparent, and/or "step"), household members of each such employee as well as those living in their same households (those persons whether related or not who live in the same residence for at least three months during the twelve-month period preceding the start date of the Sweepstakes) are not eligible to participate. The Sweepstakes is subject to all applicable federal, state and local laws and regulations and is void outside the listed states and where prohibited. Participation constitutes entrant's full and unconditional agreement to these Terms and Conditions and Sponsor's decisions, which are final and binding in all matters related to the Promotion. Participation constitutes entrant's full and unconditional agreement to these Official Rules and Sponsor's decisions, which are final and binding in all matters related to the Sweepstakes. Winning a prize is contingent upon fulfilling all requirements set forth herein.
2. SWEEPSTAKES ENTRY PERIOD:
The Sweepstakes begins on September 7, 2020 at 12:00:01 a.m. Pacific Time ("PT") and ends on September 20, 2020 at 11:59:59 p.m. PT (the "Sweepstakes Period"). All entries must be received before the end time/date of the Sweepstakes Period to be valid. Sponsor's computer is the official time keeping device for this Sweepstakes.
3. TO ENTER:
To receive one (1) entry into the Sweepstakes, during the Sweepstakes Period, capture an original photograph that shows us how you celebrate national Horchata day uploading your photo on your Facebook, Instagram, or Twitter account using the hashtags #GetThatHorchata and #Sweepstakes to receive one (1) entry into the Sweepstakes. Entries can be uploaded to your feed or stories or (for Facebook and Twitter) can be submitted as a comment on ampm's Sweepstakes and/or national Horchata day posts. Limit: One (1) entry per person/email address, regardless of how many places and social media sites it is posted to.
In order to enter the Sweepstakes, entrants must have their social media profile set to "public" or otherwise permit Sponsor, ampm, and RPA to view the entry and be able to accept direct messages from Sponsor, ampm, and/or RPA.
Entries must be submitted from a single human's social media account to be valid (for example, no entries from pet's accounts, a group account, a company's account, an organization's account, etc. shall be valid).
To enter, you must have valid a Facebook, Twitter, or Instagram Account. You can open such account for free by visiting the social media site's website. By creating an account, you agree to the site's terms of use, community standards guidelines, and any and all other terms and conditions set forth on such site.
Each entry must include all required hashtags to be considered a valid entry.
Individuals who do not follow all of the instructions, provide the required information, use the required hashtag(s), post/upload the content to the appropriate place, and/or abide by these Official Rules or other instructions of Sponsor may be disqualified. All entries must comply with the Entry requirements set forth herein to be valid. As used herein, "Entry" (and/or "Entries") refers to all content you submit in connection with the Sweepstakes (including, but not limited to, photos, description, explanations, hashtags, tag names, all content contained therein, etc.), if any. All Entries must be in compliance with the terms and conditions applicable to each social platform where an Entry is posted. Hashtags must be in English. By submitting an Entry into the Sweepstakes, you hereby warrant and represent that your Entry conforms to all Entry requirements set forth herein.
Any attempt to submit more than the maximum number of entries using multiple/different Facebook/Twitter/Instagram accounts, identities or any other methods may void that participant's entry(ies) and corresponding prizes (if any). Automated entries are prohibited, and any use of automated devices will cause disqualification. No other forms of entry are valid other than as set forth above. All entry information becomes the property of the Sponsor. Multiple entrants are not permitted to share the same e-mail address and/or Facebook/Twitter/Instagram account. Should multiple users of the same e-mail account or Facebook/Twitter/Instagram account enter the Sweepstakes and a dispute thereafter arise regarding the identity of the entrant, the authorized account holder of said e-mail account or Facebook/Twitter/Instagram account at the time of entry will be considered the entrant. "Authorized Account Holder" is defined as the natural person who is assigned an e-mail address or social account by an Internet access provider, Facebook, Inc., Twitter, Inc., on-line service provider or other organization which is responsible for assigning e-mail addresses and/or Facebook/Twitter/Instagram accounts or the domain associated with such account. Potential winner may be required to show proof of being the Authorized Account Holder.
Entry Requirements
: Entrants represent and warrant that their Entry is the original work of such entrant, it has not been copied from others, it has not previously won awards, it does not violate the rights of any other person or entity, and publication of the Entry via various media including Web posting will not infringe on the rights of any third party. Any such entrant will indemnify and hold harmless Released Parties (defined below) from any claims to the contrary. Any entrant whose Entry includes likenesses of third parties or contains elements not owned by the entrant (such as, but not limited to, depictions of persons, buildings, trademarks or logos) must be able to provide legal releases for such use including Sponsor's use of such Entry, in a form satisfactory to administrator, upon request, prior to award of prize and/or naming of entrant as a winner.
By submitting an Entry, you agree that your Entry is gratuitous and made without restriction, and will not place Sponsor under any obligation, that Sponsor is free to use or otherwise disclose the ideas contained in the Entry on a non-confidential basis to anyone or otherwise use the ideas without any additional compensation to you. You acknowledge that, by acceptance of your Entry, Sponsor does not waive any rights to use similar or related ideas previously known to Sponsor, or developed by its employees, or obtained from sources other than you.
BY SUBMITTING AN ENTRY, ENTRANT ACKNOWLEDGES THAT HIS/HER ENTRY AND ENTRY MAY BE POSTED ON SPONSOR'S WEBSITE OR ELSEWHERE ON THE INTERNET AS AUTHORIZED BY SPONSOR, IN SPONSOR'S DISCRETION. Submission of Entry grants Sponsor and its agents an unlimited, worldwide, perpetual, license and right to publish, use, publicly perform the Entry in any way, in any and all media, without limitation, and without consideration to the entrant.
All Entries you submit must conform to the additional submission requirements set forth herein:
Entry must comply with these Official Rules and any terms of use on the Facebook/Twitter/Instagram website;
Entry must comply with the posting requirements set forth above and as set forth in all Facebook/Twitter/Instagram guidelines;
Entry cannot be sexually explicit or suggestive, unnecessarily violent or derogatory of any ethnic, racial, gender, religious, professional or age group, profane or pornographic, contain nudity or any materially dangerous activity;
Entry cannot promote alcohol, illegal drugs, tobacco, firearms/weapons (or the use of any of the foregoing), any activities that may appear unsafe or dangerous, or any particular political agenda or message;
Entry cannot be obscene or offensive, endorse any form of hate or hate group;
Entry cannot defame, misrepresent or contain disparaging remarks about Sponsor or its products, or other people, products or companies;
Entry cannot contain trademarks, logos, or trade dress owned by others, or advertise or promote any brand or product of any kind (other than Sponsor's ampm brands/products), or contain any personal identification, such as license plate numbers, personal names, e-mail addresses or street addresses;
Entry cannot infringe on copyrighted materials owned by others (including photographs, sculptures, paintings and other works of art or images published on or in websites, television, movies or other media) without permission; Sponsor does not permit the infringement of others' rights and any use of materials not original to the entrant (except copyrighted materials owned by Sponsor) is grounds for disqualification from the Sweepstakes;
No background artwork should appear in an Entry unless it is an original work of the entrant. Any artwork, murals, etc. that can be seen in Entry must be created solely by the entrant or entrant must be the sole owner of all copyright interests therein;
Entry cannot contain materials embodying the names, likenesses, photographs, or other indicia identifying any person, living or dead, without permission;
Entry cannot communicate messages or images inconsistent with the positive images and/or goodwill to which Sponsor wishes to associate (as determined by Sponsor in its sole discretion); and
Entry cannot depict, and cannot itself, be in violation of any law.
ENTRIES POSTED TO THE WEBSITE ARE NOT EDITED BY SPONSOR AND ARE THE VIEWS/OPINIONS OF THE INDIVIDUAL ENTRANT AND DO NOT REFLECT THE VIEWS OF SPONSOR IN ANY MANNER. Any waiver of any obligation hereunder by Sponsor does not constitute a general waiver of any obligation to entrants. Sponsor reserves the right to waive the Entry submission requirements set forth herein in its reasonable discretion.
Sponsor reserves the right, in its reasonable discretion, during or upon completion of any Entry Period, to request that any entrant resubmit his or her Entry which fails to comply with the Sweepstakes entry requirements prior to any drawing.
4. DRAWING:
On or around September 21, 2020, Sponsor will randomly select five (5) potential winners from among all eligible entries received during the Sweepstakes Period. Odds of winning a prize depend on the number of eligible entries received. Sponsor's decisions are final and binding in all aspects.
5. WINNER NOTIFICATION:
On or around September 21, 2020, the potential winners will be notified via direct message on the social platform through which they shared their entry. Entrant's social platform settings must be enabled to allow receipt of direct messages from Sponsor, RPA, and ampm social media account. Sponsor and RPA are not liable for an entrant's failure to receive any such direct messages. Such winner will be required to respond to such notification within five (5) days and download the App (as described below) in order to capture winner's name and address. Potential winners are subject to verification. If a potential winner is found not to be eligible or not in compliance with these Official Rules, if attempted notification or any prize is returned as undeliverable, if any required documents are not returned within the required number of days, if a winner cannot be verified, if a winner does not respond during the time frame allotted, and/or if a winner is otherwise unable or unwilling to accept and claim the prize as stated, then winner may be disqualified and the prize may be forfeited in Sponsor's sole discretion. Prize winners may be required to sign and return an Affidavit of Eligibility/Liability and with (where lawful) a Publicity Release within five (5) days of attempted winner notification as indicated by the date on the Affidavit. Failure to return any required documents within five (5) days may result in prize forfeiture. Sponsor and RPA are not responsible for any change of email address, mailing address and/or telephone number of entrants. Prizes will only be awarded to winners that reside in California, Arizona, Nevada, Oregon, or Washington.
6. PRIZES (5): Selected winners must download and register a valid account on the ampm Scratch Power mobile application ("App") within five (5) days of being notified that they are a potential winner in order to receive and redeem the prize.
No alternate prize redemptions or method are available. App is free to download and register; message and data rates may apply. Check with your wireless service provider for details on these and other applicable charges. Participants are solely responsible for any such wireless charges. Not all wireless carriers participate. By downloading the App, you agree to the App's terms of service and any other applicable terms and rules.
Five (5) verified winner shall receive one (1) year of medium horchatas, awarded in the form of 365 single-use horchata coupons (1 coupon for each day of the year). Each day, for 365 days starting at 10/1/2020, one medium horchata coupon will be deposited into each verified winner's App account to be redeemed at a participating ampm location. Limit of 365 daily horchata coupons per winner; winners can only use one (1) coupon per day. Each coupon: (i) is only valid for one day and expires at 11:59:59 pm PT on the day it was deposited, (ii) can only be used towards a medium horchta, (iii) is not eligible on other fountain drinks. Winner cannot use their own reusable cup (must use ampm medium cups) and coupons are not available on or with refills.
Approximate Retail Value ("ARV") of each prize
: $434.35. App will be the source of the daily prize coupon and therefore, winners must keep the App for the duration of the prize period; if at any point a winner un-installs or cancels their App or its account, they will not be eligible for any remaining prize coupons and Sponsor and RPA shall not be responsible for any such prize coupons. Sponsor and RPA shall not be responsible for a winner's inability to use a coupon due to a location's closure, move, changed or reduced hours, broken or damaged machine(s), unavailable drinks (either due to an ingredient or other shortage or other issues), etc.
Total ARV of all prizes is $2,171.75.
ARV is as of date of printing of these Official Rules and is based on the average of SRP of horchata coupons. The difference between any stated value and actual value will not be awarded to winner. Suggested Retail Price ("SRP") of each horchata coupon ranges between $.99-$1.39 and depends on location of the ampm location and such location's taxes and fees (if any). Limit: one (1) prize per person/household for entire Sweepstakes Period. Sponsor and RPA are not responsible for any winner's inability to obtain a horchata because of store closures, unavailability of product, broken equipment, a locations inability to accept a coupon, or any other reasons.
7. GENERAL TERMS:
Prize is non-transferable, not redeemable for cash, and no substitution is available, except for in Sponsor's sole discretion. Prize winners will be solely responsible for all applicable federal, state and local taxes on prize, if any. All other expenses on the receipt and use of the prize not specifically mentioned herein are solely the responsibility of the winner. Any portion of a prize not accepted by winner will be forfeited. Winner's first name, last initial, hometown and state will be disclosed on a winner's list which will be distributed upon request and as required by law. No groups, clubs or organizations may reproduce or distribute any portion of these Official Rules to its members. All entrants, as a condition of entry, agree to be bound by these Official Rules and the decisions of the Sponsor and RPA, which are final in all aspects. The entry information provided is subject to Sponsor's privacy policy, located at
https://www.ampm.com/privacy
. Please see the privacy policy for details of Sponsor's policy regarding the use of personal information collected in connection with this Sweepstakes. Unclaimed prizes will not be awarded. If a prize, or any portion thereof, cannot be awarded for any reason, Sponsor reserves the right to substitute prize with another prize of equal or greater value.
8. CONDITIONS:
All entrants, as a condition of entry into the Sweepstakes, agree (and agree to confirm in writing): (a) to release Sponsor, Facebook, Inc., Instagram, Inc., Twitter, Inc., and all Promotion Parties (collectively the "Released Parties") from any and all liability, claims, loss, damage, or actions of any kind incurred with respect to the awarding, receipt, possession, and/or use or misuse of any prize or any item redeemed therewith or for any typographical or other error in these Official Rules or the announcement or advertisement of offering of any prize or any item redeemed therewith including, but not limited to, personal injury, death, or damage to or loss of property; (b) under no circumstances will any entrant be permitted to obtain awards for, and entrant hereby knowingly and expressly waives all rights to claim, punitive, incidental, consequential, or any other damages, other than for actual out-of-pocket expenses and/or any rights to have damages multiplied or otherwise increased; (c) all causes of action arising out of or connected with this Sweepstakes, or any prize awarded, shall be resolved individually, without resort to any form of class action; and (d) any and all claims, judgments, and awards shall be limited to actual out-of-pocket costs incurred (if any), excluding attorneys' fees and court costs.
Each winner grants to Sponsor (and agrees to confirm this grant in writing, if requested) the right to print, publish, broadcast and use worldwide in any media now known or hereinafter known the winner's name, address, voice, statement, social media username/tag name/etc., picture, or other likeness, and Entry without additional review, notification or compensation, for public relations, advertising and promotional purposes as may be determined by Sponsor.
9. LIMITATIONS OF LIABILITY:
Sponsor assumes no responsibility for (a) lost, illegible, late, misdirected, or incomplete, entries or for interrupted or unavailable satellite, network, server, Internet Service Provider (ISP), telephone or other connections, availability or accessibility, or miscommunications, or failed computer, satellite, telephone or cable transmissions, or lines, or technical failure or jumbled, garbled, corrupted, scrambled, delayed, or misdirected transmissions, or computer hardware or software or telephone malfunctions, failures, or technical errors or difficulties, or other errors of any kind whether human, mechanical, electronic or network or the incorrect or inaccurate capture of entry or other information or the failure to capture, or loss of, any such information; and (b) any incorrect or inaccurate information, whether caused by users of Facebook/Twitter/Instagram, or by any equipment or programming associated with or utilized in this Sweepstakes; any error, omission, interruption, deletion, defect or delay in operation or transmission, communications line failure, theft or destruction or unauthorized access to, or tampering with or hacking of the Facebook/Twitter/Instagram website. Sponsor reserves the right, at its sole discretion, to disqualify any individual it finds to be tampering with entry process or operation of Sweepstakes or Facebook/Twitter/Instagram website, to be acting in violation of an Facebook/Twitter/Instagram terms or to be acting in a non-sportsmanlike or disruptive manner, or with intent to threaten, abuse or harass any other person. Sponsor is not responsible for injury or damage to participants' or any other person's computer related to or resulting from participating in this Sweepstakes or downloading or copying materials from or use of the Facebook/Twitter/Instagram website. If, for any reason, Sweepstakes, in the sole opinion of Sponsor, is not capable of running as planned by reason of infection by computer virus, worms, bugs, tampering, hacking, unauthorized intervention, fraud, technical failures or any other causes which, in sole opinion of the Sponsor, corrupt or affect the administration, security, fairness, integrity or proper conduct of this Sweepstakes, Sponsor reserves the right, at its sole discretion, to cancel, terminate, modify or suspend Sweepstakes, and determine winner via a random drawing from all eligible, non-suspect entries received prior to action taken.
CAUTION: ANY ATTEMPT BY A USER OR ENTRANT OR ANY OTHER INDIVIDUAL TO DELIBERATELY DAMAGE ANY WEB SITE OR UNDERMINE THE LEGITIMATE OPERATION OF THE SWEEPSTAKES IS A VIOLATION OF CRIMINAL AND CIVIL LAWS AND SHOULD SUCH AN ATTEMPT BE MADE, SPONSOR RESERVES THE RIGHT TO SEEK DAMAGES FROM ANY SUCH PERSON TO THE FULLEST EXTENT PERMITTED BY LAW.
10. BINDING ARBITRATION:
Any controversy or claim arising out of or relating to this Sweepstakes shall be settled by binding arbitration in a location determined by the arbitrator as set forth herein (provided that such location is reasonably convenient for claimant), or at such other location as may be mutually agreed upon by the parties, in accordance with the procedural rules for commercial disputes set forth in the Comprehensive Arbitration Rules and Procedures of JAMS ("JAMS Rules and Procedures") then prevailing, and judgment upon the award rendered by the arbitrator(s) may be entered in any court having jurisdiction thereof. The arbitrator shall be selected pursuant to the JAMS Rules and Procedures. The arbitrator shall apply New York law consistent with the Federal Arbitration Act and applicable statutes of limitations and shall honor claims of privilege recognized at law. In the event that the claimant is able to demonstrate that the costs of arbitration will be prohibitive as compared to the costs of litigation, Sponsor will pay as much of the claimant's filing and hearing fees in connection with the arbitration as the arbitrator deems necessary to prevent the arbitration from being cost-prohibitive. If any part of this arbitration provision is deemed to be invalid, unenforceable or illegal (other than that claims will not be arbitrated on a class or representative basis), or otherwise conflicts with the rules and procedures established by JAMS, then the balance of this arbitration provision shall remain in effect and shall be construed in accordance with its terms as if the invalid, unenforceable, illegal or conflicting provision were not contained herein. If, however, the portion that is deemed invalid, unenforceable or illegal is that claims will not be arbitrated on a class or representative basis, then the entirety of this arbitration provision shall be null and void, and neither claimant nor Sponsor shall be entitled to arbitrate their dispute. Upon filing a demand for arbitration, all parties to such arbitration shall have the right of discovery, which discovery shall be completed within sixty days after the demand for arbitration is made, unless further extended by mutual agreement of the parties.
THE ARBITRATION OF DISPUTES PURSUANT TO THIS PARAGRAPH SHALL BE IN THE ENTRANT'S INDIVIDUAL CAPACITY AND NOT AS A PLAINTIFF OR CLASS MEMBER IN ANY PURPORTED CLASS OR REPRESENTATIVE PROCEEDING. THE ARBITRATOR MAY NOT CONSOLIDATE OR JOIN THE CLAIMS OF OTHER PERSONS OR PARTIES WHO MAY BE SIMILARLY SITUATED. DO NOT ENTER THIS SWEEPSTAKES IF YOU DO NOT AGREE TO HAVE ANY CLAIM OR CONTROVERSY ARBITRATED IN ACCORDANCE WITH THESE OFFICIAL RULES.
BY PARTICIPATING IN THIS SWEEPSTAKES, EACH ENTRANT AGREES THAT TO THE EXTENT PERMITTED BY APPLICABLE LAW: (1) ANY AND ALL DISPUTES, CLAIMS AND CAUSES OF ACTION ARISING OUT OF OR CONNECTED WITH THE SWEEPSTAKES, OR ANY PRIZE AWARDED, WILL BE RESOLVED INDIVIDUALLY THROUGH BINDING ARBITRATION AS SET FORTH ABOVE, WITHOUT RESORT TO ANY FORM OF CLASS ACTION; (2) ANY AND ALL CLAIMS, JUDGMENTS AND AWARDS WILL BE LIMITED TO ACTUAL THIRD-PARTY, OUT-OF-POCKET COSTS INCURRED (IF ANY), BUT IN NO EVENT WILL ATTORNEYS' FEES BE AWARDED OR RECOVERABLE; (3) UNDER NO CIRCUMSTANCES WILL ANY ENTRANT BE PERMITTED TO OBTAIN ANY AWARD FOR, AND ENTRANT HEREBY KNOWINGLY AND EXPRESSLY WAIVES ALL RIGHTS TO SEEK, PUNITIVE, INCIDENTAL, CONSEQUENTIAL OR SPECIAL DAMAGES, LOST PROFITS AND/OR ANY OTHER DAMAGES, OTHER THAN ACTUAL OUT OF POCKET EXPENSES), AND/OR ANY RIGHTS TO HAVE DAMAGES MULTIPLIED OR OTHERWISE INCREASED; AND (4) ENTRANT'S REMEDIES ARE LIMITED TO A CLAIM FOR MONEY DAMAGES (IF ANY) AND ENTRANT IRREVOCABLY WAIVES ANY RIGHT TO SEEK INJUNCTIVE OR EQUITABLE RELIEF. SOME JURISDICTIONS DO NOT ALLOW THE LIMITATIONS OR EXCLUSION OF LIABILITY, SO THE ABOVE MAY NOT APPLY TO EVERY ENTRANT.
11. GOVERNING LAW & JURISDICTION:
These Official Rules and the Sweepstakes are governed by US law and are subject to all applicable federal, state and local laws and regulations. All issues and questions concerning the construction, validity, interpretation and enforceability of the Sweepstakes Official Rules, or the rights and obligations of entrant and Sponsor in connection with the Sweepstakes, shall be governed by, and construed in accordance with, the laws of the State of New York, U.S.A., without giving effect to the conflict of laws rules thereof, and any matters or proceedings which are not subject to arbitration as set forth in Section 10 of these Official Rules and/or for entering any judgment on an arbitration award, shall take place in the New York, New York.
12. WINNERS' LIST:
For the names of the winners, please visit ampm.com/GetThatHorchata. Requests must be received by November 1, 2020.
13. SPONSOR:
BP Products North America/BPPNA, 4 Centerpointe Drive, La Palma, CA 90623.
The Sweepstakes is in no way sponsored, endorsed or administered by, or associated with Facebook, Twitter, or Instagram. You are providing your information to the Sweepstakes Sponsor, and not to Facebook, Twitter, or Instagram. Any questions, comments or complaints regarding this Sweepstakes shall be directed to Sponsor and not to Facebook, Twitter, or Instagram.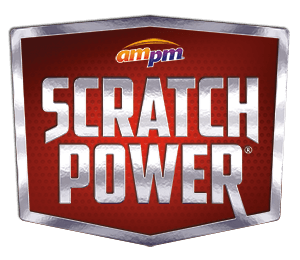 SCRATCH POWER
We know you like free stuff. Download now for your chance to win thousands of incredible prizes.